New Times Model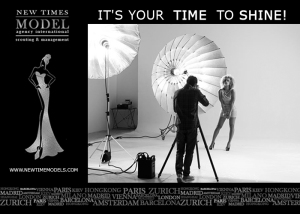 Office address
Киев, ул. Владимирская 71
New Times Model - an international agency that is looking and contractual accompaniment work with the most prestigious modeling agencies in Europe and Asia.
The agency provides services as a professional and experienced models, as young beginners, and exhibitions to participate, take pictures and videos and fashion shows to international catwalks and magazines.

Discussion / Reviews about "New Times Model"
.
© ACMODASI, 2010- 2020
Все права защищены.
Материалы (торговые марки, видео, изображения и тексты) находящиеся на этом сайте принадлежат их правообладателям. Запрещено публиковать любые материалы без предварительной договорённости с их владельцем. Администрация сайта не несёт ответственности за любую информацию размещённую на этом сайте третьими лицами.
При копировании текстовых и графических материалов (видео, изображения, скриншоты страниц) с этого сайта активная ссылка на сайт www.acmodasi.com обязательно должна сопровождать такой материал.