Interantional Beauty Movement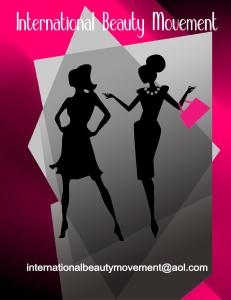 Website
internationalbeaut.wix.com/internationalbeauty
the International Beauty Movement has created a strong and respectable presence in both the entertainment and fashion industry since 2012 with Ripping Runways Magazine the internationally known online female model magazine, Girl 9 Magazine For Men that features the sexiest and most beautiful female lingerie and bikini models worldwide, and Salon Savvy Magazine, that features the hottest and most creative hair stylists and makeup artists in the world, Project Couture Magazine that features some of the most talented models worldwide, and Ethnic Queen Magazine that is dedicated to all aspiring and professional ethnic models worldwide.


The International Beauty Movement aka I.B.M. is a fashion and entertainment member network that is designed to open doors for the most creative and unique women in the fields of fashion, beauty, and entertainment, that need assistance in being promoted or recognized for their unique beauty or talent, and The I.B.M. is dedicated to worldwide promoting of aspiring models, professional models, hair stylists, makeup artists, salons, fashion and beauty columnist, fashion and beauty bloggers, fashion photographers, entertainers, aspiring and professional actresses, and pageant winners worldwide that have that special beauty or creative talent that should be recognized by industry insiders.

Discussion / Reviews about "Interantional Beauty Movement"
.
© ACMODASI, 2010- 2020
Все права защищены.
Материалы (торговые марки, видео, изображения и тексты) находящиеся на этом сайте принадлежат их правообладателям. Запрещено публиковать любые материалы без предварительной договорённости с их владельцем. Администрация сайта не несёт ответственности за любую информацию размещённую на этом сайте третьими лицами.
При копировании текстовых и графических материалов (видео, изображения, скриншоты страниц) с этого сайта активная ссылка на сайт www.acmodasi.com обязательно должна сопровождать такой материал.